Gun Law Seminar Presented by US LAW Shield 12/14
December 14, 2017 @ 6:30 pm

-

8:30 pm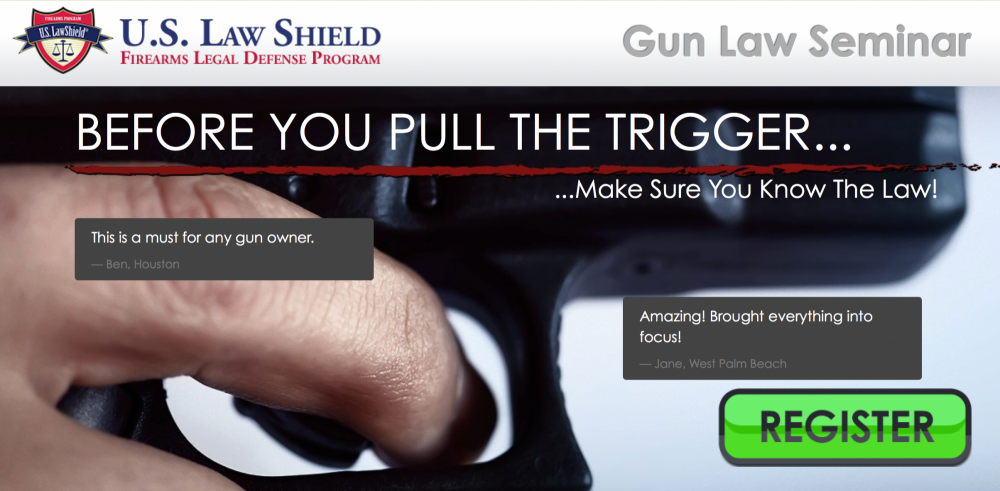 Got a question on when it's legal to shoot in self-defense? Want to know what happens immediately after a self-defense shooting? Get your questions answered at our Gun Law Seminar.
Hendershot's Sporting Goods is proud to partner with US Law Shield to bring you this unique educational opportunity. The event will take place at our store from 6:30-8:30 PM on Tuesday, December 14th.  This event is FREE OF CHARGE for folks who sign up for our email list:  click here to sign up now!  Seating is limited so don't delay!
U.S. Law Shield provides legal support for more than 200,000 gun owners across the country. They believe first and foremost that every man, woman, and child has the absolute right to defend themselves, their loved ones, and their property from attack.
While their backgrounds and experiences are diverse, Law Shield members are united by a commitment to the unalienable right to self defense, by whatever means the individual chooses.
Why attend an event?
Ignorance of the law is not a legal excuse!
The legal system can be very hostile toward gun owners.
Responsible gun owners get thrown into the legal system every single day.
What topics will be explained at the event?
Our events feature experienced attorneys, law enforcement, and other firearms professionals that cover a wide-range of topics such as the Castle Doctrine, the justified use of deadly force, where you can legally carry, what to expect when law enforcement arrives, and much more. Every event has dedicated question and answer segments to ensure all attendees are able to get the information they want to know from a credible source they can trust.
What materials are provided at the workshop?
All attendees will receive the U.S. Law Shield publication (When Can I Legally Shoot? Knowing The Law Of Deadly Force,) a $9.95 value, FREE for registrants. This publication explains the ins-and-outs of the law of the deadly force in plain language, helping you understand when you are legally allowed to pull the trigger.
Please click here to sign up today!