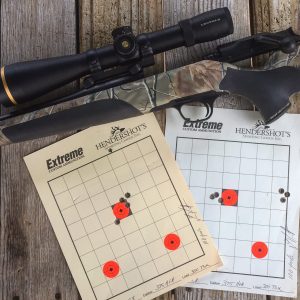 If you want to take rifle and ammunition performance to the next level, we offer a custom load development program. The reason is simple, maximum accuracy and performance to exploit the "Extreme" potential of your rifle.
Once we have your rifle in hand we will do a complete evaluation. Trigger pulled will be checked to ensure weight of pull, sear engagement and over-travel are all working in perfect harmony. The bedding will be inspected to insure all points of contact are even and no torque is being applied to the action or barrel. Next your barrel will be carefully examined with a bore scope, the throat will be inspected for signs of wear that can lead to poor accuracy, and every inch of the barrel will be checked for signs of stress. We will make sure the crown is concentric and check for any damage that may have gone unnoticed. Finally your scope will be re-mounted. During this process the base mounting screws will be tightened and the scope rings lapped to eliminate alignment torque on the scope tube.
Once we have determined the status of the rifle the load development will begin. Your ammunition will be loaded with the bullet of your choice or our knowledgeable staff is happy to make a recommendation considering all variables. Various powders, seating depths, etc. will be tested to determine which load is the most accurate.
If you're hunting dangerous game have you considered both an expanding and solid bullet so that you are prepared for any scenario? Our extensive knowledge of loading for large-bore rifles allows us to a regulate a load for both to the same point of impact so it can be used interchangeably with perfect confidence. There are many options that we can discuss!
Pricing as follows:
Complete Rifle Inspection and Load Development:
Calibers up to .375 – $499.00 Per rifle (Plus the cost of ammunition used) – Normally 50-80 rounds are fired during the process.
Once the proper load has been developed, tested and proven, you will be provided with all the ballistic data. Your rifle will be sighted-in according to your specifications and thoroughly cleaned before it is returned to you.
We strive for a quick turn around and can even help you coordinate shipping your rifle to us.
If you're ready to experience the "Extreme" performance of our Custom Ammunition, please complete our contact form or call us at (240) 347-4883 today.